The 2022 Subaru Love Promise Community Commitment Award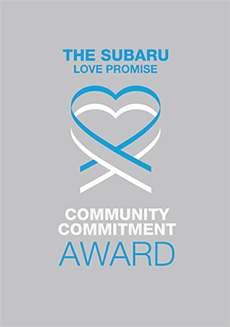 We've been nationally recognized for our dedication to our community and the Subaru Love Promise.
We're honored to receive the 2022 Subaru Love Promise Community Commitment Award. This award nationally recognizes Subaru retailers who are making the world a better place while demonstrating an outstanding commitment to supporting passions and causes in local communities. These efforts are focused in important areas such as the environment, community, health, education, and pets.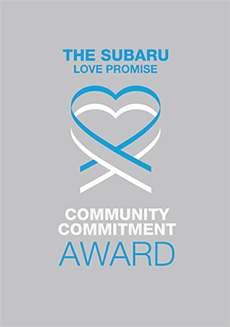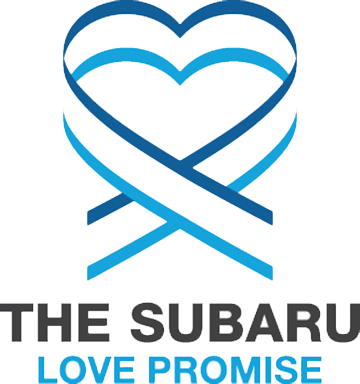 What is the Subaru Love Promise?
Subaru and our retailers believe in making the world a better place and the Subaru Love Promise is our vision of respecting all people. This is our commitment to show love and respect to our customers and to work to make a positive impact in the world.
How is Schomp Subaru dedicated locally to the Love Promise?
The commitment Schomp Automotive has to its communities spans the decades the business has been in existence. Giving back continues to go hand-in-hand with our business's success. The Schomp SPARK community initiative focuses on Education, Wellness, and Stewardship in our community. Stewardship - Schomp Automotive understands that people in our communities experience unforeseen challenges. We're there to react and offer support in a myriad of ways. Whether it is responding to a natural disaster or making sure that our local little league team can afford new uniforms, we'll be there to help. Health & Wellness - Healthy people make for healthy communities. We focus on children's health and wellness. Our major effort in this area, extending over 29 years, is Schomp's support for the Pediatric Burn Center at Children's Hospital Colorado. We keep the words of our CEO, Aaron Wallace, in mind: "If we are going to give, let's give to the weakest, the most helpless, the most injured, those most in need." Education - We are passionate about children and education. Our charitable efforts in this area focus on vocational education, teaching life skills, and basic adult preparation. That's why we support our local public education foundations, such as Arapahoe Community College, and have two annual award programs, Teacher of the Year and Coach of the Year, to recognize outstanding educators in our community.
Aurora Mental Health Green Spaces Program
Village Exchange Center, Arapahoe Community College, Teacher of the Year Award Program, Coach of the Year Award Program, Lotus Charter School for Excellence
Aurora Warms the Night, The Family Tree
Children's Hospital Colorado Foundation
Love Promise Stories from Schomp Subaru
Subaru and Schomp Subaru believe in making a positive impact on the communities in which we live and work. We uphold that belief through our Love Promise Community Commitment. Every month, we select inspiring stories from customers and partners from around our area who strive to support our collective commitment and feature them here
Community Support - Michelle M
We at Gateway Domestic Violence Services, were so grateful when Subaru reached out to ask if they could partner with us for their monthly donation collection with their customers and employees. The heard about our work after chatting with the Aurora Police Department on what services was needed, the most assistance in the Aurora community and immediately contacted us to pitch in Schomp Subaru dropped of many essentials items like bedding and toiletries as well as $500 in gift cards that we can distribute to the recovering families that need assistance, we appreciate everyone who participated and contributed to our organization, with out individuals and organization such as Schomp employees and costumers we wouldn't be able to continue to do the work that we do, the gifts and contributions is extremely appreciated, and we look forward to partnering up with you all in the near future Thank you, Michelle :)
---
Thankful for all the support. Paws on the Ground - Amy W
Paws on the Ground Colorado has been working with Schomp Subaru for several years to raise funds and awareness for our organization through community events held at their dealership, most notably, our fall festival Bark-A-Boo. We are so grateful to Schomp Subaru for hosting such a festive and meaningful fundraiser! From encouraging people to donate or bring needed supplies, to creating custom merchandise for sale, to fantastic Yeti prizes for the pet costume contest, Schomp Subaru thought of every little detail to make the event fun and memorable. Our mission at Paws on the Ground started as an advocacy group to reduce puppy mill commerce, which grew into a foster-based rescue to help animals from high kill shelters by taking in the unwanted, displaced, medically in need and abandoned. We help facilitate transport, rehabilitation, rehoming and medical services for these rescue animals, and adopt them into their loving forever homes. With Schomp Subaru's support, we found families for eight of our dogs that were looking for homes directly from the event. Not only did Schomp Subaru help with a direct donation, but the awareness they brought with additional media exposure is also invaluable in helping our rescue pets find loving homes and positioning our organization in the community as a non-profit to continue to support. Our volunteers, shelter partners and the animals we love are immensely grateful.
---
Community Cares Kits & Aurora Warms the Night - Gabe R
Homelessness during the COVID-19 pandemic was labeled a "crisis within a crisis" by the media outlets nationwide, and people experiencing homelessness were projected to be in the highest category of people to contract and die from the virus. Local non-profit outreach efforts through street outreach and low-barrier shelters help navigate these individuals affected by homelessness to work toward stability. Distribution of hygiene kits during street outreach is one of the most effective ways in building rapport and trust with individuals on the street. "Aurora Warms the Night has been on the front lines of addressing homelessness for decades and the pandemic has created additional levels of concern throughout the region that we have never seen before. Addressing these exacerbated needs through willing partners like Schomp, provides us these much needed resources and relief for the needs of those experiencing homelessness.- Gabe Romero, Executive Director, Aurora Warms the Night.
---
Schomp Subaru & Village Exchange Center - Nelson P
On behalf of Colorado International Soccer Academy (CISA), we are very proud to collaborate with Schomp Subaru Sports Alliance and Village Exchange Center to be part of this great opportunity to the Aurora and Denver youth by providing soccer technical skills development to The Beast soccer team. We had a fantastic time coaching these talented kids the fundamentals of soccer and sharing some insight into player experiences, team values, teamwork, individual soccer skills, and much more. We loved these kids' passion for the game. Supporting their dreams to become something meaningful in sports is very motivating. We enjoyed every practice session. So did our CISA club players who interacted and played scrimmages together with the team. Our communities need more programs with the primary focus of having fun while playing a sport. The festival was fantastic; kids had tons of fun interacting and learning from each other, we enjoyed the delicious treats, and made our soccer community more enjoyable. We highly encourage you to keep moving forward with this program, as it brings opportunities and learning experiences to our communities.- Nelson
---
The Beast Soccer Club, thanks Schomp - Austin L
Our recent program with Schomp Subaru was a smashing success. For about a year we have been trying to launch a youth soccer club with our organization and Schomp Subaru comes in, helps us workshop a name and logo and kit color, find a coach and a venue for a starter match, and helped us acquire jerseys and needed gear. Such a creative, engaging and helpful group to work with. We look forward to an ongoing relationship with all involved - especially the wonderful team at Schomp!- Austin Lazek, Village Exchange Center
---
Subaru Loves the Earth - Lori B
We were so thankful to have been part of the Subaru Loves the Earth initiative this year with Schomp Subaru. Through the initiative they partnered with three of our Aurora Mental Health Center facilities to build beautiful green spaces for the community we serve. One in five Americans will have a diagnosable mental health condition in any given year, and half of us will experience a mental health challenge at some time in our lives. For more than 40 years, we at Aurora Mental Health Center has used proven programs to help people achieve better mental health. We also provide education that enables people to maintain their emotional health regardless of the personal challenges they encounter in life. These green spaces, a collection of vertical Tower Gardens on site, aligned perfectly with our mission and initiatives to help people achieve better mental health. Our community now has a place that consistently has a beautiful collection of leafy greens and herbs that they can enjoy all year long. At our Stith Location, we are integrating the Tower Gardens into a program with our new community kitchen. Clients are being trained on the Tower Gardens, how to harvest and then incorporate into meals and dishes. The importance of green space and mental health go hand and hand; we are so thankful that Schomp Subaru recognized this and partnered with us to make it a reality. - Lori Banks, CEO
---
Family Tree and Schomp Subaru - Johnna G
Here at the Family Tree House of Hope, we're dedicated to providing safe shelter and supportive services for adults and children that are experiencing child abuse, domestic violence, and homelessness. We provide emergency residential services, case management and advocacy, therapeutic services, outreach support, housing search and placement, education and employment support, among many other services to the Arapahoe County community. We're so grateful to Schomp Subaru for hand-delivering over 200 large fleece blankets that we can distribute to our patrons to help keep them warm on those cold Colorado nights. These blankets mean so more than just small shelter from the elements. To these individuals, they can mean a feeling of security, a much-needed gesture of kindness, or even just a touch of normalcy that can make such a difference. Their team has gone the extra mile to share our cause with their employees and the community so that more people can be aware of these struggles and the dire needs of their neighbors and choose to volunteer or donate to help. We look forward to working with Schomp Subaru in the years to come. Thank you so much for all you do for our communities.
---
Thank you Schomp Subaru- from the APS Foundation - Robyn H
Schomp Subaru has been a wonderful sponsor and partner for the Aurora Public Schools Foundation for the past 3 years. This year, Schomp was the Valet sponsor to our 9th Annual Relentless Gala. The dealership provided a professional valet service for all of our guests. Additionally, their team went above and beyond, putting together over 500 gift bags with: snacks, water, and informational cards; to place in event guests' cars. Such a kind and thoughtful gesture! We are so appreciative of Schomp Subaru's partnership!
---
Schomp Subaru's Community Care Kits - Greyden C
We are so thankful for the Schomp Subaru Community Care Kits. The program was an incredible response to the current homeless crisis we are experiencing in our city. To build an impactful program in the community, Schomp Subaru collaborated with us and multiple non-profits focused on providing resources for those experiencing homelessness to understand their needs and what would help support our outreach efforts. Here at the St. Francis Center we provide shelter as well as services that enable people to meet their basic needs for daily survival and to transition out of homelessness. "People experiencing homelessness face a daily struggle to survive each day. Through street outreach our team knows how small gestures of kindness can offer much needed hope in the moment. We are grateful for Schomp Automotive's commitment to care for our unsheltered community members." Jim Boberschmidt, Director of Outreach, St. Francis Center of Denver. The Schomp Subaru Community Kits included the following items; Water-Resistant Fanny Pack, Crew Socks, Sunscreen, Lip Balm, Anti-Bacterial Wipes, Shampoo, Conditioner, Deodorant, Toothbrush, Toothpaste, Hair Comb, and Lotion. Street Outreach is basically the craft of community connection that requires rapport-building and trust. The Schomp Subaru Community Cares Kits worked well because I could connect quickly with people, in the moment, and that is key. In addition, the Schomp Subaru Community Cares Kits were so nicely packaged that they were kind of a gift, a treat. This makes rapport-building easier. I didn't have to fumble around with my outreach gear, in a situation that can already be awkward enough—for all concerned. I was able to simply hand something of value, that was functional and neatly packaged—and folks were truly grateful. Thank you so much to Schomp Subaru for the thoughtful and well-designed community support. The Schomp Subaru Community Cares Kits helped make the connection! - Greyden Charlesworth, St. Francis Center Community Outreach Coordinator.
---
Cares Kit Program - Andrea M
I am a local social worker and co-responder in Arapahoe county. I reached out to multiple agencies in an attempt to find care kits for our local homeless population. Upon reaching out, Nikki with Schomp Subaru, responded immediately. Schomp Subaru provided me with 50+ care kits within 3 days. The kits included items such as socks, toiletries, and other sanitary items. We are so thankful for the charitable support and prompt follow up from Nikki with Schomp Subaru and would highly recommend working with them in the future.
---